http://blogs.reuters.com/uknews/2008/03/28/of-course-its-a-genuine-fiver-i-made-it-myself/
Of Course It's Genuine — I made It Myself
by: Jennifer Hill at Reuters

Everyone, surely, would love to have a licence to print money. Well, one man has taken the concept to a whole new level. It might sound bonkers, but Sheridan "Shed" Simove has created his own currency.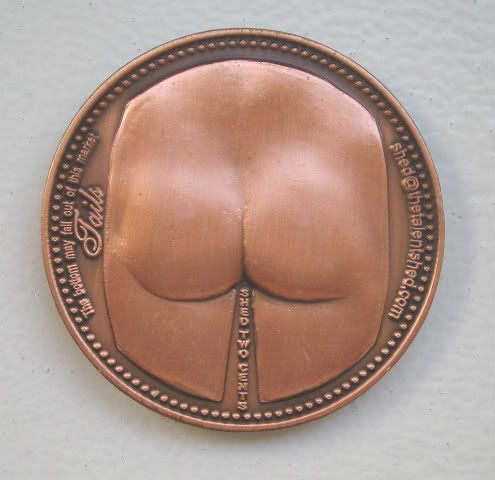 "It makes the world go round. Oh, and it's the root of all evil. Although strictly, the love of it is actually the root of all evil," he writes in his new book, "Ideas Man: The Amazing Real-life Adventures of a Modern-day Creative Genius". "Yes, I'm talking about the basis of our capitalist society, the units of exchange we use to obtain material goods — MONEY."

Simove has always been fascinated with the concept of money — not high finance or currency markets so much, more the bizarre concept of 'cash' in its physical form. It all began with a history lesson at school on America's Great Depression, soaring inflation and the devaluation of the dollar that necessitated wheelbarrows of money just to buy a loaf of bread.

Years later, the advent of computer games in which players accrued points to "buy" weapons and powers for their characters became the inspirational trigger for a new challenge — especially after one "bright, enterprising spark" got the idea to sell his character's virtual weapons for real cash. "A fire was lit within me," says Simove. "And boy, did it burn brightly. If something 'unreal' could be sold for cash, could I do the same?"

And, so, the Bank of Shed was formed and the "Ego" was born — an apt name, some might say, for a currency adorned with Simove's picture and images that sum up his character: a full English breakfast on a plate to represent time working on "The Big Breakfast"; an image of Walt Disney, one of his inspirational idols; and a picture of a lightbulb to convey "the power of ideas", his "passion". The names of Simove's family are also embedded through the background pattern of the note. This "graphic resume" of his life also doubles as an effective business card; his telephone number is the banknote serial number, and his email address is printed in tiny type on the reverse.

Then came the real challenge. Would people buy for hard cash something that had no actual value in the world as we know it? Simove wrote a sales pitch and uploaded some photos of the currency on auction Web site eBay. Amazingly, the buyers flocked from far and wide. Some were simply curious to see what he'd done; others were banknote collectors from around the world. One auction went to 5.50 pounds for a single Ego; an art student from Glasgow bought 20 notes for 15 pounds; while quite a few sold for just the starting price of 10 pence. After a month, the Ego had an average exchange rate of one to 0.74 British pounds.

Seemingly, though, the Ego — unlike the dollar, either back in the Great Depression or now – is appreciating in value. The latest auction saw the note exchange hands — to a user called "Molly the dog" for 1.53 pounds. But, before you think of rushing to the printers to run off your own currency, here's a word of warning. A two cent coin that Simove later had minted has a cheeky message. The "heads" side of the coin depicts the "ideas man" himself. The "tails" side depicts a bottom (presumably his), and the following words: "The bottom may fall out of this market."